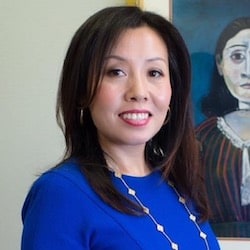 Christine Chao
Case Manager & Senior Paralegal
---
"Christine handled everything professionally and made the whole process easy for us so we can focus on taking care of my father."
- Yun J. (Testimonials)
Christine Chao is the senior paralegal and case manager of The Law Offices of Derek Lim. She received her Bachelor of Arts degree at Jilin University in China and her Paralegal Certificate at San Francisco State University. Christine is passionate about giving back to her community by helping clients with their personal injury and immigration matters. With decades of experience under her belt, she has helped the firm secure large personal injury settlements and successful immigration outcomes. Christine is also a humanist, workout enthusiast, world traveler, and a lover of jazz, literature, food, and wine. In her spare time, she loves biking, hiking, enjoying nature, trying out new restaurants, and going to concerts and performances.
Ms. Chao joined the firm in 2008 and has over 20 years of legal experience. Under attorney Derek Lim's supervision, Ms. Chao provides invaluable assistance with the firm's personal injury cases, making hospital and home visits as needed, and helping injured victims and their family members through this difficult time. Although not the entirety of her legal experience, she has primarily assisted in cases relating to vehicular accidents and dog bites. Her excellent communication skills particularly shines through in her work with insurance companies as she has helped the firm successfully secure numerous financial settlements and compensations for our clients.
Meanwhile, Ms. Chao has handled various immigration matters including H-1B, L1, E1/E2, PERM, family-based petitions and other nonimmigrant visas. Ms. Chao has extensive experience aiding the attorney on complex immigration matters, such as Violence Against Women Act (VAWA) claims, I-601 waivers and appeals.
In addition, Ms. Chao assists with the overall management of the firm and participates in training of the legal team on the firm's practices and procedures.
Ms. Chao's achievements, abilities, and charisma have won her many praises from clients and colleagues.
Education
Paralegal Studies Certificate, San Francisco State University, San Francisco, California, 1995
B.A. in Arts, Jilin University, Changchun, China
Published Works
Contributed to a Weekly Column on Immigration Law, Sing Tao Daily