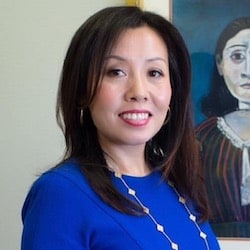 Christine Chao
Senior Paralegal
Christine Chao is the senior paralegal at The Law Offices of Derek Lim.
Ms. Chao joined the firm in 2008 and has nearly 20 years of legal experience, having handled various immigration matters including EB-5 immigration by investment, H-1B, L1, PERM, family-based petitions and other nonimmigrant visas. Ms. Chao has extensive experience aiding the attorney on complex immigration matters, such as waivers and appeals.
Ms. Chao also provides invaluable assistance with the firm's personal injury cases, making hospital and home visits as needed, and helping injured victims and their family members through this difficult time.
In addition, Ms. Chao assists with the overall management of the firm and participates in training of the legal team on the firm's practices and procedures.
Ms. Chao's achievements, abilities, and charisma have won her many praises from clients and colleagues.
Education
J.D., University of San Francisco School of Law, San Francisco, California, 1995
B.A. in Arts, Jilin University, Changchun, China
Published Works
Contributed to a Weekly Column on Immigration Law, Sing Tao Daily